LAST MINUTE CALL - AIRP2022 Botopasi Suriname

Let's meet in August-September 2022 in Botopasi.
Residency period: June 10th, 2022
Deadline application: June 10th, 2022

2020 was a festive year for us: The Botopasi village is founded 125 years ago, Artceb celebrates her 10th year anniversary and Isidoor graduated 30 years ago from Utrecht School of the Arts (HKU).
During the resicency period there will be three subjects we will lay emphasis on: art, ceramic, theater & music. The annual Botopasi Event will be from 2-4 September.
ART
We invite all disciplines. Artists have to be able to work independently. As always an artist will focus on his own program. We will always tailor your stay.
CERAMIC
The soil on site can be tested and used to create art. We will continue to experiment with different firing technics and work on a ceramic installation. In 2016 we started to make art that stays at the Center. Every individual artist decides whether he donates a piece to Art Center Botopasi.
THEATER & MUSIC
At the Botopasi Event we developed a great corporate theater project whit the locals. Every year we will produce such a project or fine tune one. The aim is to work with professionals that will uplift the local activities. The projects will be documented for our archive.

Deadline application: June 10th, 2022
International artists are invited to participate at the Artceb International Residency Program (AIRP) at ARTCEB, the platform for progressive art exchange, located in Botopasi Suriname, Carribean South America.

Call for artists
WHAT
Artist residency at Art Center Botopasi (ARTCEB)
WHERE
Botopasi, Suriname, South America
WHEN
Residency period to be agreed.

WHO
Artists in any fine art subject media and/or discipline. During their residency the artists will work on the project described in their proposal, which is approved by the ARTCEB selection committee.
ABOUT FUNDING
ARTCEB is member of Res Artis. It is also supported by the Sepu foundation and is working closely together with art podium ARTOTS (NL). Be aware that we do not provide funding to cover residency costs. For example Dutch artists can apply for funding at Mondriaan Foundation.
| | |
| --- | --- |
| | PROGRAM HIGHLIGHTS |
| 1. | Group welcome |
| 2. | Getting to know Botopasi and Paramaribo (for example visits to locals, museums, meetings with students, artists, curators and other members of the Surinamese world of art). |
| 3. | Lecture, presentation or See & Talk session during which information will be presented about art professionals and/or the previous work period and professional activities in the residency such as 'Open Studio'. It is followed by Q&A session and public discussion. |
| 4. | Botopasi Event |
| 5. | Workshop conducted by a resident (subject, material, age group and form to be agreed) |
| 6. | Final presentation in Botopasi |
| 7. | Final group event - Exhibition / Performance / Other at Paramaribo Suriname (if applicable) |
| 8. | Publication of the annual residency catalogue (if applicable) |
COST
€ 45.00 per day per person for the agreed period of the residency.
If you know anyone who might be interested in applying or collaborating with ARTCEB please do not hesitate to forward this information.

LINKS
• ARTCEB AIRP2022 Application form (.doc file)
• ARTCEB AIRP2022 program (.pdf file)
• ARTCEB AIRP2022 FAQ (.pdf file)
• ARTCEB accomodations (.pdf file)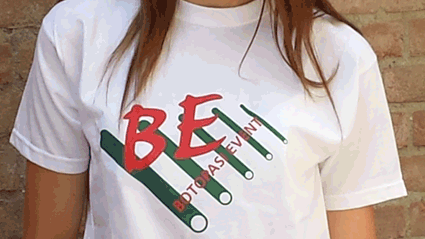 T-shirt Botopasi Event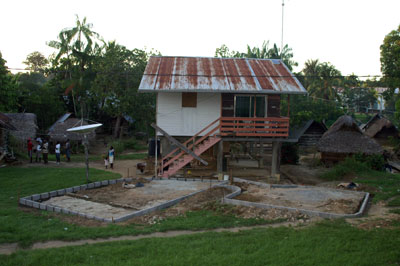 ARTCEB headquarter. In front of the building an installation is being made on
top of the remains of the family home, which was burned by the military in 1986.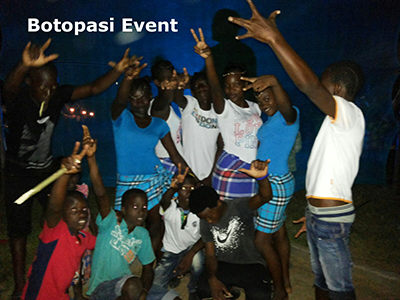 Full of joy at Botopasi Event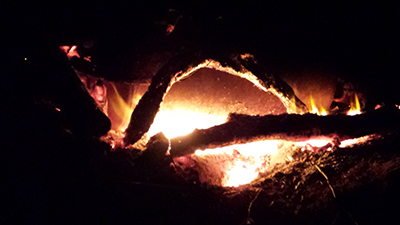 Kiln1 ARTCEB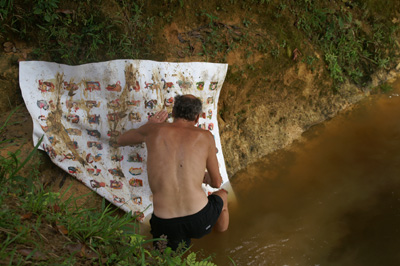 Artist Wim Vonk at work in the Suriname river with river clay.

Airstrips as you find them in the area.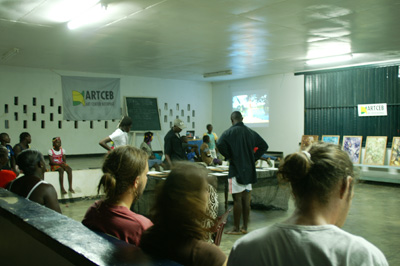 Exhibition in the recreation hal in Botopasi.
Information about ARTCEB
can also be found at
.............................
Sponsors